adfinity introduces lighthearted preplanning brochure for funeral homes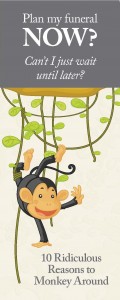 Tampa, FL — adfinity, a Florida-based advertising agency focusing on the funeral industry, has created a new eight-panel brochure, 'Plan My Funeral Now?' that encourages people to preplan, but with a playful twist.
In the full-color piece, 10 bits of 'monkey logic' are given in response to objections like 'I don't know where to start,' 'I'm choosing cremation anyway,' and 'I don't have the money right now.'
"One of our clients wanted us to create a brochure to help his staff overcome objections to preplanning," explained Leah Burkett, adfinity project manager. "So, we came up with the top 10 reasons people don't preplan, added some humor and the monkey theme just hit us. Though it is definitely a different slant on pre-need, our client says the brochure has lightened the mood and encouraged real conversations during the preplanning process."
Because the brochure has been so well received, adfinity is adding it to its library of brochures that can be customized by all clients. Customization options include adding logo and address information and adjusting the copy to meet a funeral home or cemetery's specific marketing goals.
For a sample of the brochure or more information on preplanning marketing, call 1-877-251-1222 today!
About adfinity
Established in 1999, adfinity is a Florida-based advertising agency specializing in funeral home marketing. This full-service advertising and marketing firm has both regional and national clients. For additional information on adfinity's products and services, call 1-877-251-1222 or visit www.adfinity.net.
###